February 26, 2012, 3:21 pm PT by Rachel Ho |
I had the opportunity to attend the 81st The Hollywood Christmas Parade on Nov 25.The Hollywood Christmas Parade is an annual Christmas celebration held in Hollywood, and it lasts for approximately 2 hours every year.
The parade's participants included many celebrities (most of them were from Disney Channel and ABC shows), school bands, charity foundations and sponsors. It was a spectacular event which included huge balloons like these: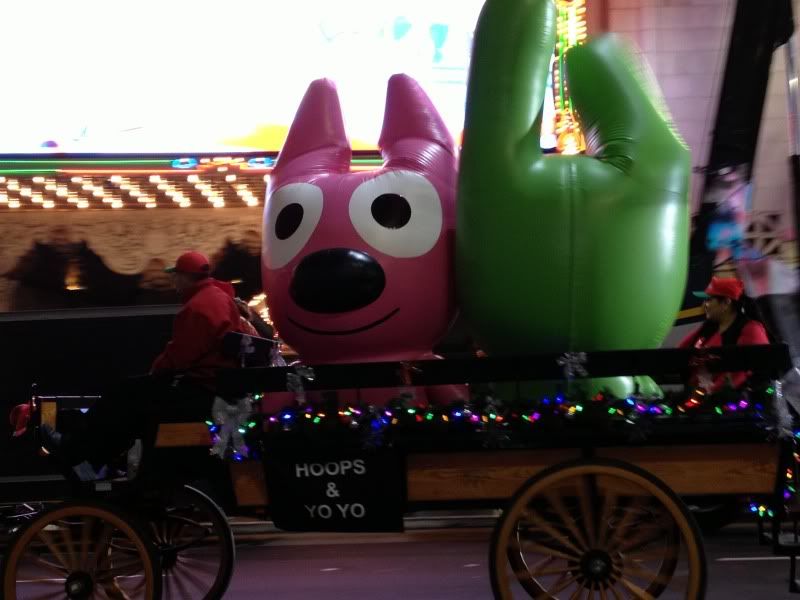 information - cialistoday.com
It certainly was a star-studded event as many well-known celebrities graced the red carpet and waved to their fans while standing/sitting in a moving vehicle. I did not know every celebrity that was there, but here's a list of some of the celebrities who were there whom I know & remember:
James Maslow (from Big Time Rush)
Carlos Pena (from Big Time Rush)
Tyrel Jackson Williams (from 'Lab Rats')
Billy Unger (from 'Lab Rats')
Kelli Berglund (from 'Lab Rats'. I interviewed her in July! Check out our interview here)
Caroline Sunshine (from 'Shake It Up')
Roshon Fegan (from 'Shake It Up')
Kenton Duty (from 'Shake It Up', though he was not in the 'Shake It Up' float at the parade)
Jennifer Veal (from 'Jessie')
Karan Brar (from 'Jessie')
Cameron Boyce (from 'Jessie')
Susan Sullivan (from 'Castle')
Lauren Potter (from 'Glee')
Sierra McCormick (from 'Ant Farm')
Stephanie Scott (from 'Ant Farm')
Maria Canals-Barrera (from 'Wizards of Waverly Place')
Ryan Potter (from 'Supah Ninjas')
Judge Alex
Jerry Mathers
Kaitlyn Jenkins (from 'Bunheads')
The hosts for this event were Erik Estrada and Laura McKenzie.
I was absolutely starstruck. Seeing all the people whom I've watched on the telly in real life is absolutely surreal and it's one of the best feelings in the world. Especially when Maria Canals-Barrera's car stopped right in front of me. I swear, my heart leapt out of my chest that very moment. And when she whipped out her cell phone and took pictures of the crowd (I'm pretty sure I was included in the pictures), I was shaking so badly. I really admire Maria and I loved her role as Mrs Russo on 'Wizards on Waverly Place'.
The cast of 'Lab Rats' also stopped in front of me due to a "traffic jam" in the parade, and they interacted with the fans. They're a lively bunch, they are. I can see why Kelli told me that her cast-mates were a fun bunch who never failed to put a smile on her face.
Thank goodness the cast of 'Austin & Ally' wasn't there, or I definitely would have jumped into their car and ravished them or something. I had an amazing time at The Hollywood Christmas Parade and I think the organisers did a wonderful job.
Caroline Sunshine is absolutely stunning in real life. I'm used to seeing her acting all stuck-up & wearing weird outfits on 'Shake It Up'. It was weird (in a good way) seeing her not being her on-screen character. She's really pretty & friendly!
Here are some pictures I took during the parade. They're not very clear as I was using my iPhone 4S to take the pictures (my mum mocks me for being "old-fashioned" all the time because she has an iPhone 5 and I don't... whatever) and some of the vehicles were moving too quickly.
If you loved this article, you might also enjoy the following: