April 26, 2012, 12:38 pm PT by Rachel Ho |
British pop-rock band McFly is back! One of the most significant pop groups, McFly has achieved much success not only in their home country England, but the band has also gained international recognition.
Their albums Room on The 3rd Floor, Wonderland, Motion In The Ocean, Radio:ACTIVE, Above The Noise have sold 10 million copies worldwide. They have had seven UK No.1 singles, five top 10 albums and numerous sell out tours. 2011 saw a double reality win as McFly took over UK TV screens with Harry winning 'Strictly Come Dancing' and Dougie 'I'm A Celebrity Get Me Out Of Here'.
Now, McFly is jumping on the bandwagon. Following in the footsteps of the Foo Fighters and Westlife, the band has announced its plans to release a second 'greatest hits' album titled Memory Lane: The Best of McFly. The album contains 19 of the band's greatest hits, such as "Five Colours In Her Hair", "Obviously", "One For The Radio", "All About You" and "Shine A Light". It also features demo versions of "That Girl" and "Obviously".

Cover artwork for 'Memory Lane: The Best of McFly'
That's not all – the deluxe edition of Memory Lane contains 21 rare and unreleased tracks! Can you believe it? While I am not a huge fan of McFly, I do like their music, and I really can't wait to get my hands on Memory cheap cialis canada pharmacy Lane!
Just a few months ago, McFly completed a massive 26-date UK tour. The tour was all sold out, making it their biggest tour yet. In September, they performed two shows at New York's Gramercy Theatre and LA's ROXY, both of which sold out in minutes and crashed the Ticketweb site upon release. I'm not sure if crashing the Ticketweb site is supposed to be a good thing or not, but since it was on the press release, I suppose it's supposed to be a great accomplishment. Poor Ticketweb, though. We could say that McFly is the One Direction of rock music (well, that's what it seems like to me).
Excited about Memory Lane already? Here's another thing to be excited about: McFly will be releasing a new single, "Love Is Easy"! This new single will be the first track of Memory Lane. "Love Is Easy" has an acoustic feel, reminiscent of early McFly hits. According to a statement from the band's PR agency, the track consists of "instinctive sweet vocals mix with a care-free catchy chorus which you can't help but tap a toe and sing along to!" Suh-weeeeet!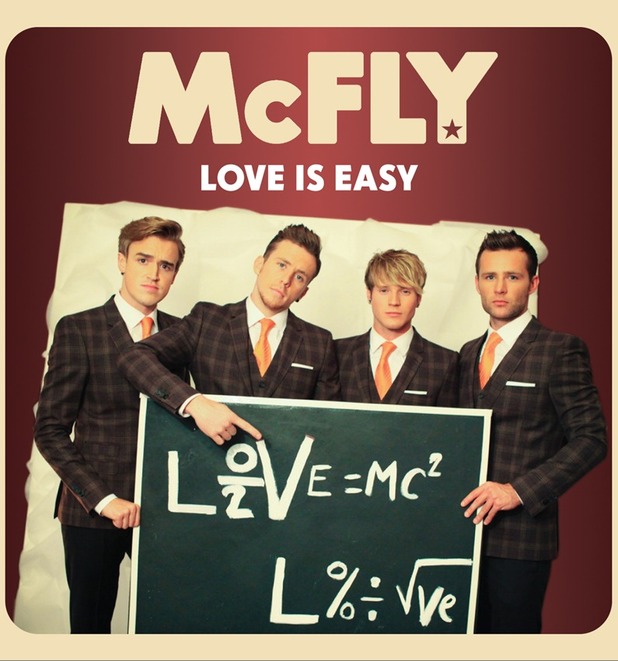 Artwork for McFly's new single "Love Is Easy"
Memory Lane: The Best of McFly track listing:
1. Love is Easy
2. Shine a Light (radio edit)
3. Party Girl
4. Falling in Love (radio edit)
5. Do Ya
6. Lies
7. One for the Radio
8. The Heart Never Lies
9. Transylvania
10. Friday Night
11. Stargirl
12. Don't Stop Me Now
13. I'll Be OK
14. All About You
15. Room on the Third Floor
16. Obviously
17. Five Colours in Her Hair
18. Do Watcha
19. Cherry
20. That Girl – original 2003 demo
21. Obviously – demo 2003 demo
22. Memory Lane (Album version from Wonderland album)
If you loved this article, you might also enjoy the following: