December 2, 2012, 11:59 pm PT by Rachel Ho |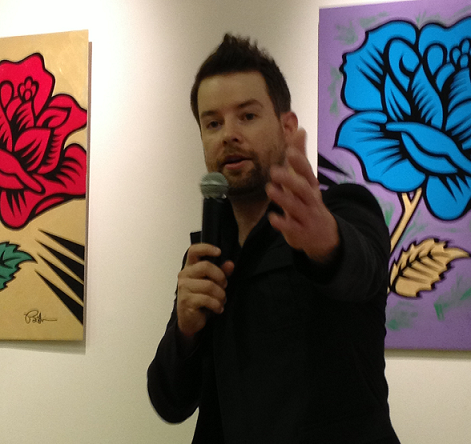 After being crowned American Idol on the seventh season of the hit reality singing competition "American Idol" in 2008, David Cook has gone on to release two albums (David Cook and This Loud Morning), sold 1.5 million copies of his debut album, #1 hits on the Billboard charts and had some of his singles certified Gold and Platinum to date.
The 29 year old singer-songwriter has not only accomplished a great deal in his career, but he has done a lot for charity as well. His brother, Adam Cook, passed away in 2009 after a decade-long battle with brain cancer. As such, David has decided to do the best he can to prevent more people from going through what his brother had to go through, and hence he has done a lot of charity work for cancer research organizations such as the Accelerated Brain Cancer Cure. This year will be his 5th year of involvement in the ABCC. He has raised over 3 million dollars for brain tumor research and funding. He also performed for soldiers in both Kuwait and Iraq during the United Service Organizations Tour (USO Tour).
Ft. Worth Telegram praised the Texas-born singer, saying that David has a "melodic gift for penning ballads that feel poignant without becoming maudlin." Billboard Magazine also said that melodically speaking, "there is no question this David Cook bullet is heading right for the brain."
Starpulse had the opportunity to attend David's press conference in Singapore as well as to sit down and chat with him about "American Idol", his music as well as his plans for the future.
When asked what he was working on at the moment, David stated that he was writing songs for his new record as well as for other artists. He is also booking shows in the United States for 2013. He recently relocated to Nashville, TN, to get his creative juices flowing and to get new ideas to aid his songwriting process. He said that his relocation to Nashville has brought new stimuli into songwriting, and he was going in a music direction slightly different from the style of his past two albums, allowing his sound and style to change a little.
Believe it or not, even songwriting geniuses like David get writer's block sometimes. When asked about what he does whenever he gets stumped while writing, David replied, "Uh… Anything but writing. I usually write about fifteen songs in a month or two, and when I get writer's block, I'll just go out and experience new things to intensify the creative process."
David described his songs as a "personal diary", where he writes about anything that comes to his mind, such as his emotions, significant events in his lives, ex-girlfriends, photos on the internet and even newspaper articles! "I'll just look at a picture and go all, there's a song in here somewhere!" David explained.
A reporter asked David, "If given a chance to judge a singing competition similar to "American Idol", would you take up the opportunity?" David's reply? "Maybe." He went on to explain that there were seasons on Idol where the most of the attention was focused on the contestants, and then there were the seasons where most of the attention was focused on the judges. He believed that the contestants on the show tend to be more successful when more attention was focused on them, and he would probably take up the chance if that was the case.
David also talked about his pre-Idol album Analog Heart. He described it as a special album and said that it was an experiment, and that he had not recorded the songs on Analog Heart with the intent of it being an album. When asked about whether or not he was closed off to the idea of performing songs from Analog Heart, David said that while he was not closed off to the idea, he was more focused on performing new music when on stage, and could not really afford much time for songs from this album.
On the next page (below) is a transcript of the interview we had with David, which includes places he'd love to visit, advice he'd give to his younger self, his job as a musician and many more!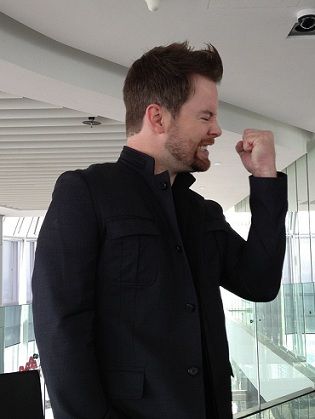 Starpulse: Could you tell us more about "From Here To Zero" and the story behind it?
David: We've played it at shows but we haven't released it yet – we hope to soon, though. The latest song we've released is "The Last Song I'll Write For You". I wrote that with Zac Maloy, the same guy who wrote "Lie", and he was one of the writers on "Come Back To Me". The story behind "From Here To Zero" is kind of like you're professing your love for someone, and you're professing your love for this person until your clock hits zero. If there ever was a universal theme or a universal emotion everybody could relate to, it's love. And that song obviously talks about it. (laughs)
Starpulse: We've noticed that you have been playing more acoustic shows lately. Is this any indication of your current music direction?
David: Yes and no. I felt that for some of the songs, an acoustic guitar would fit more than an electric. I'll still play guitar, it's still a very important part of who I am, but I think the progression of an artist is always a good thing.
Starpulse: What is your favorite part about your job?
David: Traveling, trying local food in different countries – I'm a foodie, meeting people. I like to immerse myself into local food, though I think the balut thing I had in the Philippines isn't going to happen so easily. If my schedule allows it, I like to get lost in the city and just move around on my own.
Starpulse: If you could give your 18 year old self a piece of advice, what would it be?
David: "Don't get weird haircuts." During the American Idol auditioning process, I had this unfortunate red and dark brown haircut. It was terrible. So yeah, I would probably tone down the hair a little bit.
Starpulse: How would you define yourself as an artist?
David: I'm going to give you the most honest answer I have to your question: I don't have a definition for myself as an artist. I don't like to define myself as an artist, because if I did, that's who I am, and that's not an artist I'd like to be. I like the idea of being an artist who can change and try new things.
Starpulse: What is your favorite song to perform live?
David: Well, it changes all the time, it all depends on what kind of show it is (eg: an acoustic show) and the audience. I think the one that I most consistently like playing is "Paper Heart" (off his second major-label studio album This Loud Morning). I don't really know why. There are just so many different factors, such as the audience interaction you get, or whether it sounds right on the stage.
Starpulse: Some American Idol winners do not achieve much success. What are your thoughts on this?
David: It is unfortunate, because I think that a lot of them are very talented, and they don't receive the attention they deserve. There's a common misconception of Idol that Idol is the be-all-end-all. You go on Idol and you're huge. That's it. But that's not really the case. Idol is an amazing platform for performers. I mean, where else are you going to get to perform in front of 25 to 30 million people a night, and they're all gonna hear your song? That's huge. But it's not the be-all-end-all. I think the success stories associated with Idol are justified. Look at Kelly Clarkson and Carrie Underwood. Most people don't see the amount of work they put into what they do. It's justified. But it really is a bit of a crapshoot – you need the right song at the right time with the right artist for the right people. The music industry by itself, by percentage, has very few success stories.
Starpulse: Are there any places which you haven't been to, but you'd love to perform in?
David: There are a lot of places I haven't played, like outer space. I've never played a show anywhere in Europe. I've never been to Japan or China either.
Fans will be happy to hear that David is planning to release new songs soon. In the meantime, sit back and enjoy David Cook's latest single, "The Last Song I'll Write For You".
Photo credits:
- Rachel Ho
- Seline Teo
This article was written by by Rachel Ho for Starpulse.com. Read the article here: Interview With 'American Idol' Winner David Cook - Starpulse.com.
If you loved this article, you might also enjoy the following: