February 20, 2013, 4:10 pm PT by Rachel Ho | 3 comments
Just as I was getting bored with the same old music that has been on replay on my iPod for the past few months, R5 finally released their long-awaited EP, Loud.
R5 is a family band comprising of Ross Lynch (rhythm guitar, lead vocals), Riker Lynch (bass guitar, lead vocals), Rocky Lynch (lead guitar, lead vocals), Rydel Lynch (keyboards, tambourine, vocals) and Ellington Ratliff (better known as Ratliff – drums, vocals). Riker, Rydel, Rocky and Ross are siblings while Ratliff is a family friend of theirs.
Loud is the band's second EP but it is their first mainstream EP after being signed to Hollywood Records less than a year ago. The band's popularity has been increasing steadily since 2012 largely due to Ross' starring role in Disney sitcom 'Austin & Ally' as well as Riker's recurring role in hit FOX drama 'Glee'.
Loud EP tracklist:
1. "Loud"
2. "Fallin' For You"
3. "I Want U Bad"
4. "Here Comes Forever"
All four songs are up-beat pop-rock songs with contagious tunes that are sure to hook their listeners. I'd describe R5's songs as a mix of Boys Like Girls and One Direction, with a unique sound that makes R5, well, R5!
My favourite track off Loud is definitely "Fallin' For You" (I love all four songs but "Fallin' For You" just has that IT factor that makes it stand out among the rest). The best part of the song is definitely the lyrics, which you can find here.
"Loud" is the EP's lead single, and the music video for the song will be released on Feb 22. Earlier this month, R5 performed an acoustic version of "Loud" on Radio Disney. Are they talented or what? Also, I absolutely adore Rydel's voice. I wish they could record a song where Rydel gets a solo. Maybe a duet or something. That'd be perfecto!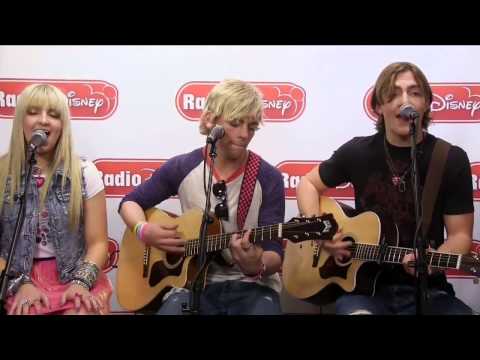 There are three ways in which you can purchase Loud:
iTunes (digital): US

$3.96

(US store only)
Amazon (digital): US

$3.61

R5 Store (physical): US

$5.00

 (extra shipping costs not included)
Loud reached a peak of #7 on the iTunes Albums chart (all genres), and it peaked at #3 on the iTunes Pop Album chart! Congratulations to R5!
R5 will be embarking on the R5 LOUD Tour next month, where they will be touring the United States to promote Loud. The tour will begin at The Yost Theater in Santa Ana, CA on March 15, and it will end at the House of Blues in Los Angeles, CA on May 19. You can purchase your tickets here.
Facebook: R5
Twitter: @officialR5
Instagram: officialR5
Official website: r5rocks.com
Photo credits: R5 / Facebook
If you loved this article, you might also enjoy the following: